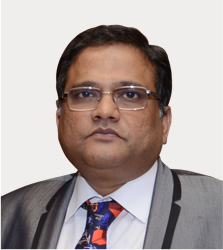 Capt. Satya Srinivas
Capt. Satya Srinivas is the Chief Executive Officer of Seaways Group and also heads the NVOCC. He joined our Company in 2003.

He has 33 year's work experience.

He holds a Master's degree in shipping and navigation from the Director General of Shipping, India.

Capt Srini's experience includes handling of the liner activity of NVOCC business, project and sector planning for India's container feeder operations, coordination of coastal cargo movement in containers, chartering and brokering of handy-max bulkers and container feeders and liaisoning with all the mainline and feeder operators.
Shyam Ponkshe
30 year's work experience

Joined the Group in 2017

Appointed as Group CFO in April 2023.

Responsible for Financial planning, Working Capital Management, Accounting Functions, Financial Reporting & Compliance.

Chartered Accountant with a post qualification experience of more than 28 years in Shipping Industry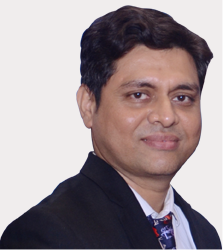 Capt. Siddharth Shukla
Capt. Siddharth Shukla is the Vice President and head of the Bulk Cargo Vertical. He joined Seaways in 2008.

He has 27 year's work experience.

He holds a Master's degree in Shipping from DGS, GOI and a Bachelor's degree in Nautical Sciences from University of Mumbai (1996).

He helped in commencing bulk operations in Kandla, Mumbai ports and took lead in establishing our Offshore business vertical.
Jeevan Vikas
Jeevan Vikas is the Vice President and head of the Freight Forwarding. Jeevan Vikas joined Seaways in 1997 and has behind him over 25 years in the Shipping and Logistics industry.

He holds a Masters' degree in Business Administration and Masters' degree in Commerce from Andhra University, Visakhapatnam.

Jeevan is currently the President of Visakhapatnam Container Lines Association and Director of YMCA, Visakhapatnam chapter.
Capt. Avisek Bhattacharjee
Capt. Avisek Bhattacharjee is the General Manager and Business Head of SSCPL – FTWZ/3PL Warehousing, a position that he took over on 1st April 2022. He joined Seaways in April 2021, as General Manager of the Bulk Cargo Vertical in Seaways Chennai, assisting the business development for the Vertical.

Capt Avisek is a master mariner and has done his PG programme from ISB, Hyderabad. He has 17 years of experience in the shipping industry, including on board shipping experience of 13 years.

He worked for Visakhapatnam Port Trust (VPT) as Assistant Director as EA to Chairman of VPT and Dy. Chairman VPT – special projects, operational improvement and business development.

Prior to joining Seaways, he worked for UDS Limited in Chennai as AVP – Business Head of seaport liquid bulk terminal operations and maintenance.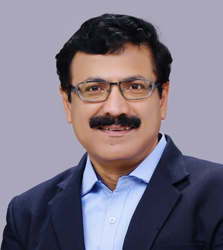 T.V. Satish Babu
T V Satish Babu (Satish) is the Company Secretary & GM Legal, Compliance Officer and heads the Corporate and Legal Affairs in Seaways.

He has 29 year's work experience.

He is also responsible for undertaking all secretarial functions, including ensuring compliance with various regulatory requirements applicable to the company. He joined us in 2012.

A fellow member of the Institute of Company Secretaries of India and a Law Graduate from Marathwada University, Satish has experience in managing statutory compliances and corporate governance.

He was employed with Bodhtree Consulting Ltd, Avantel Ltd, Nile Ltd and EPTRI, prior to joining Seaways.